Professionals who review products provide an unbiased opinion of the quality and service the consumer can expect. After field testing products, the results of their experience is published in magazines or newspapers, and you, as an informed consumer, can determine if the product will suit your needs.
Here's what the pros say about RGI/Cartom:
NEO-PRO Floating GPS Case
Aaron H. Bible highlighted Cartom's NEO-PRO floating GPS case in the January 2000 Issue of Outfitter Magazine. Aaron pointed out features like the UV stabilized clear plastic window allowing for unit operation while in the case, 3 mm neoprene padded protection, a quick access belt clip, and, of course, a period buoyancy in water.
CLICK HERE for a closer look at the Neo-Pro floating GPS case.
SKOOZRS™ Padded Skating Wallet
Skoozrs barely appeared on store racks before it was reviewed by "Gadgets and Gear" in the December 7, 1998 edition of the Cleveland Plain Dealer. The review mentioned the convenience of Skoozrs for carrying "keys, your regular wallet, or some spare change."
Skoozrs straps around your skate with a VELCRO™ strap, and although it works great on in-lines or quads, "nothing says you can't strap this wallet around your ice skates." Die-hard skaters will want Skoozrs for carrying skate tools and spare parts too!
The Biker's Bottle Sleeve
From "Product Watch" in the August, 1998 issue of Adventure Cyclist, Mike Deme pointed out the benefits of using Cartom's biker's bottle skeeve to carry a reserve water bottle. Deme wrote, "The biker's bottle sleeve would be handy when touring in areas where there may not be a sufficient supply of water between points,…or in areas of the world where potable water is scarce." He also recommends, "It is designed to hold water for refilling your regular water bottle; not to hold bottles which will be used while riding."
In addition to its designed use, Deme found that the biker's bottle sleeve can also be used as a storage pouch to carry things like an extra "shirt and shorts."
CLICK HERE for a closer look, pricing, and order information!
Cartom Bottle Carriers
From the U.K., HARPERS highlighted the "lightweight bottle carrying systems from Cartom," in "The Great Outdoors" of the June 9, 1998 issue. The article mentions the versatile attachment provisions for "waist belt/shoulder straps to bike bottle cages."
Also in the U.K., Outdoor Pursuits Magazine featured the bottle bridle as an "Editor's Choice" in "Outdoor Gear" from the July/September, 1998 edition. The article stresses the bottle bridle's design as a "universal bottle carrier which adjusts for the height, diameter, and shape of plastic bottles and drinks flasks."
CLICK HERE for the complete line of CARTOM bottle carriers
NEO-PRO Camera Straps & Tripod Carrying Strap
The "INFOCUS" review in the June, 1998 issue of Outdoor Photographer confirms the features found in Cartom's NEO-PRO line of camera straps. Outdoor Photographer points out how the "non-skid design keeps the strap on your shoulder and an anti-fatigue quality absorbs shock." They also suggest that you "try out the tripod carrying strap," which, when not in use, you can "roll it up and store it in your pocket or camera bag."
CLICK HERE for NEO-PRO camera strap info.
Cartom Wrist/Ankle Wallet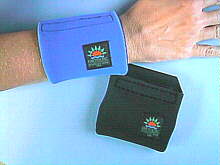 Nationally syndicated columnist Judi Dash reviewed our wrist wallet during March, 1997 in her monthly column on travel gear and gadgets appropriately called, "Gear & Gadgets." Dash recommends the wrist wallet for those times when "carrying a wallet or purse is inconvenient, especially when all you need to tote is a room key, a few credit cards and some cash," and "in places where pickpockets are plentiful." The wrist wallet includes a plastic zip bag liner "for occasions when you are likely to get wet – canoeing, walking in the rain, at the beach." In testing it for her review, Judi writes, "I have used the wrist wallet on hiking trips and found it a hands-free way to protect a few valuables."
In the April/June 1998 issue of Outdoor Pursuits Magazine from the U.K., an "Outdoor Gear Editor's Choice" article noted that "some walking, running, paddling or cycling excursions are done with just the clothes you stand in." and that the problem is "where to stash your keys and small change." To solve the problem, "The (Cartom) wrist wallet from Newhunt (in the U.K.) is the answer."
CLICK HERE for a closer look at the Cartom wrist/ankle wallet.
NEO-PRO Replacement Luggage Strap

In another "Gear & Gadgets" review, nationally syndicated columnist Judi Dash put Cartom's NEO-PRO replacement luggage strap through the paces. In the September, 1997 review, Dash refers to the "Comfort Strap" (her name for Cartom's replacement luggage strap). Stressing the convenience and comfort factors, Judi wrote that the strap "has just enough give to act as a shock absorber as you move." She also reports that the "material has a clinging quality that reduces the slide factor."
CLICK HERE to see Cartom's Neo-Pro replacement luggage strap.
Spotlight on Cartom
Short of a full product review, products in the Cartom line have been spotlighted by some editors because they are unique or uniquely desirable for their intended purpose. A November, 1997 issue of the newsletter Money's Worth spotlighted Cartom products included our wrist wallet,
The Internet online magazine Personal Watercraft Zone gave the spotlight to this product as well, recommending it for carrying licenses, I.D.s, and other personal valuables that need to be kept safe and dry.
---
We invite product reviewers and editors to contact us!